Brown Sales Creates Second Shift in Response to Demand for Cloth Face Masks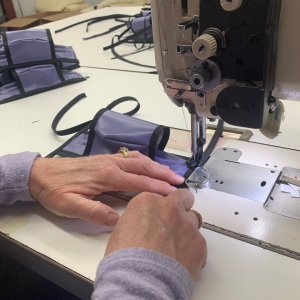 On March 30, 2020, Brown Sales launched our Deluxe Cloth Face Mask with Antimicrobial Cover into the marketplace. We were optimistic about customer response to our product, but demand has thus far exceeded our wildest expectations.
In response to this huge demand, Brown Sales has created a second shift in our sewing department. We now seek to hire up to eleven production sewers to work during this second shift. These sewers will exclusively sew our Deluxe Cloth Face Mask with Antimicrobial Covers and possibly other related products if/when such other products are launched.
Brown Sales' second shift will begin on Monday, April 13, 2020 (we will not work on Sunday, April 12, 2020 in observance of Easter Sunday). The shift will consist of 34 total hours per week. The work schedule is as follows:
Sundays: 1:00 PM to 11:00 PM (10 hour shift)
Mondays: 5:00 PM to 11:00 PM (6 hour shift)
Tuesdays: 5:00 PM to 11:00 PM (6 hour shift)
Wednesdays: 5:00 PM to 11:00 PM (6 hour shift)
Thursdays: 5:00 PM to 11:00 PM (6 hour shift)
Fridays: Off
Saturdays: Off
Persons hired for this second shift will be paid hourly; they will also receive a productivity bonus for every mask shipped. This is likely a limited term employment (LTE) opportunity. Due to volatile COVID-19 market conditions, however, Brown Sales does not estimate an employment end date at this time.
Qualified candidates will have excellent industrial sewing skills; they will produce high quality sewn products in allotted times. They will also possess a "can-do" attitude and a kind, cheerful demeanor.
For compensation details or to apply for a position, please contact Bryce Beatty, Sewing Room Supervisor, via email at . In the interest of social distancing, we are not accepting in-person applications at this time.
Brown Sales is a small, family-owned and operated industrial sewing company in Fitchburg, Wisconsin. Established in 1970, we are celebrating our 50th year in business in 2020. We are an essential business during this time of crisis.