Brown Sales is featured in IFAI's Specialty Fabrics Review: "Productivity Paired"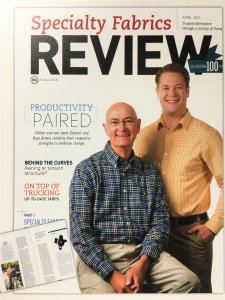 Brown Sales has been featured in Specialty Fabrics Review, the "definitive voice of the industry" and flagship publication of the Industrial Fabrics Association International (IFAI).
In the magazine article entitled "Productivity Paired," Stewart Brown (President) and Ross Brown (Vice President) discuss how Brown Sales embraces opportunities to continually refine and improve its processes to deliver value in the marketplace.
By leveraging both technology and a proactive team culture, Brown Sales continues to provide quality parts, outstanding service, and an enjoyable business experience to its customers in the marketplace.
The full article is available to read online here.