Brown Sales Presents the "Deluxe Cloth Face Mask with Antimicrobial Cover"
COVID-19 has taken America and the world by storm. Face mask shortages reign among healthcare workers and the general public alike. Brown Sales is not content to witness these problems sweeping across the globe without doing whatever we can do to assist during this time of crisis.
Accordingly, we have invested significant time and resources to design and launch a new product called the Deluxe Cloth Face Mask with Antimicrobial Cover. In the course of only one week, we have taken this product from concept to production-ready. We are officially releasing this item into production today (March 30, 2020); first masks are expected to be ready to ship by Monday, April 6, 2020 or sooner. (Click here to learn about purchasing.)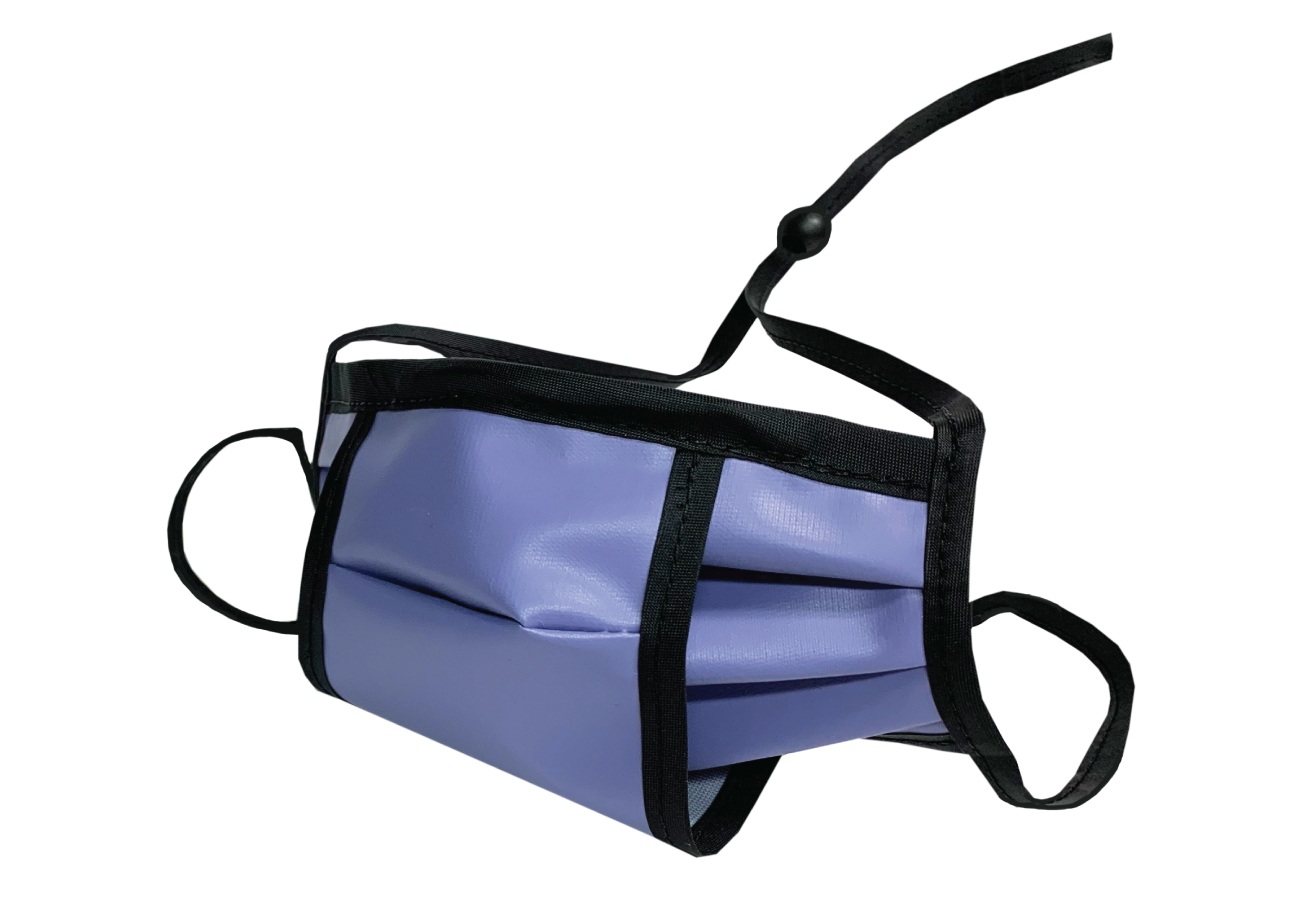 The Deluxe Cloth Face Mask with Antimicrobial Cover is a reusable double-layer cotton cloth face mask with an antimicrobial, nonporous, medical fabric cover.
Users of this product breathe through a double-layer of brand new, 100% cotton broadcloth poplin – just like many other cloth face masks available in the marketplace. Unlike other cloth face masks, however, our unique face mask is permanently and completely covered with an antimicrobial, nonporous medical fabric called Sure-Chek®.
Breathability of this face mask is maintained thanks to its smart design. An appropriately sized opening is cut away from the base layer of Sure-Chek® material during the manufacturing process. This opening is then covered by an overlapping secondary layer of Sure-Chek® material. The sides of the secondary layer are left open to allow for comfortable air exchange through the face mask. In this way, users easily breathe through the mask, but the double-layer of cotton avoids direct exposure to the outside world.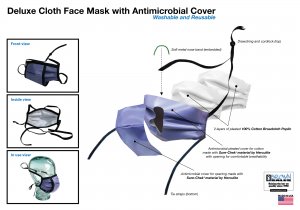 Sure-Chek® Medical Fabric by Herculite, Inc.
Sure-Chek® antimicrobial material is made in America by Herculite, Inc. As described on their website, "Sure-Chek® brand medical fabrics are the original health care fabrics that were patented for use as protective covering fabrics in medical environments.  Today they are the standard in the industry.  Developed in cooperation with healthcare professionals Sure-Chek® was designed to provide surface protection that is comfortable, safe, durable, and effective for use in health care facilities, [among others]."
Brown Sales has utilized Sure-Chek® material in numerous medical product applications for decades. Given our manufacturing experience as well as the favorable properties of Sure-Chek® material, designing and presenting the Deluxe Cloth Face Mask with Antimicrobial Cover for marketplace consideration was a natural move for us to make during this time of crisis.
Additional Product Information
We think the Deluxe Cloth Face Mask with Antimicrobial Cover is a better cloth face mask than others available in the marketplace. Consider these additional product features:
Our face mask is reusable and machine washable. After use, simply wash this face mask in a washing machine with cold water on "gentle" cycle. Allow the item to air dry only.
A soft metal nose band is embedded in the top of our face mask to ensure a tight, conforming, comfortable fit.
Our face mask quickly and easily secures to the head and face. Top-side straps are secured and tightened by means of an easily adjustable cord lock; bottom-side straps are simply bow-tied behind the neck.
Our face mask features a pleated design so that it expands to comfortably fit adult faces of all shapes and sizes. (This face mask is designed and intended for adult use only; the face mask is neither designed nor intended for use by children.)
First Production Units Are Scheduled to Ship by April 6, 2020
Brown Sales is making the Deluxe Cloth Face Mask with Antimicrobial Cover available for purchase by healthcare personnel, hospital systems, governments, and the general public alike. You can find this item available for purchase on BrownSales.com. The item will also be available for sale on Amazon in the near future.
If you are interested in purchasing these products in bulk via purchase orders and established terms (e.g. "NET 30"), or if you are eligible to purchase items without sales tax, please contact us with your purchase request.
Please note that during this time of healthcare crisis, we are likely to prioritize orders placed by healthcare personnel, hospital systems, and governments over orders placed by the general public. That said, with the potential exception of large bulk shipments, we expect to ship all orders within one week from the time the order is placed.
The personal protective equipment (PPE) face mask shortage crisis in America is real. According to recommendations published by the Centers for Disease Control and Prevention (CDC), homemade face masks (including cloth face masks) can be used as an option of "last resort" in "settings where [PPE] face masks are not available." The CDC goes on to state that homemade face masks "are not considered PPE, since their capability to protect [users] is unknown. Caution should be exercised when considering this option. Homemade masks should ideally be used in combination with a face shield that covers the entire front (that extends to the chin or below) and sides of the face." The Deluxe Cloth Face mask with Antimicrobial Cover is professionally manufactured, yet it is still appropriately categorized as a cloth face mask. Accordingly, per the CDC's published information, this product does not qualify as PPE. To draw upon the language offered by the CDC: THE CAPABILITY OF THE DELUXE CLOTH FACE MASK WITH ANTIMICROBIAL COVER TO PROTECT USERS IS "UNKNOWN." Brown Sales has designed this product and presents it for sale in the marketplace in good faith as one of many private sector responses to the N95 mask shortage experienced at the time of product launch (March, 2020). Brown Sales reasonably expects this face mask to perform at least as well as generic double-layer cotton cloth face masks but expressly disclaims any additional increases or improvements to users' safety, health, or well-being as a result from purchasing or using this product.