Brown Sales Triples Mask Production Capacity, Reopens Bulk Purchasing Options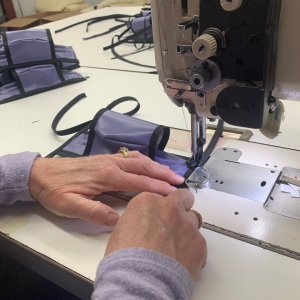 Brown Sales launched our Deluxe Cloth Face Mask with Antimicrobial Cover on March 30, 2020. Demand for the product quickly overwhelmed our production capacity. In response, we started a second shift in mid-April and fully staffed it within days. Since then, our leadership team has focused on carefully training our new sewers. Despite urgent demand, we have stressed "working at the speed of quality" instead of quick output. We understand that production speed improves with time as sewers gain experience. On April 30, 2020, an internal review of mask production capacity proves those results.
Our review has shown that Brown Sales has successfully tripled our mask production capacity in just a few short weeks. As a result, we are now in an excellent position to supply customers with finished products — including those customers who wish to order in bulk — in a quick, timely, and sustainable fashion.
Thanks to our hugely increased capacity, we have reopened bulk purchasing options for our Deluxe Cloth Face Mask with Antimicrobial Cover. Price discounts are now available for bulk orders of 10, 25, 100, and 1,000 QTY units. Learn more about our bulk price discounts here.
Brown Sales remains committed to offering high-quality, durable, reusable, and machine-washable cloth face masks as a smart alternative to cheaply constructed and/or disposable cloth masks. Our intent is to save our customers money in the long run: when our customers purchase and reuse our cloth face mask over a period of multiple months, our customers stretch their dollars further — and bulk pricing only results in further savings!